JAKARTA – RumahMillennials.com | A World of Our Own adalah pertemuan pemuda Global Youth Leaders (GYL) yang bekerja sama dengan AISEC Indonesia yang diselenggarakan di Jakarta, Indonesia, pada tahun 2018. Acara ini mengundang pemuda di seluruh dunia untuk berfokus pada membayangkan dan mengaktualisasikan masa depan yang dibuat oleh kalangan pemuda saat ini.
Nama A World Of Our Own menggambarkan potensi individu-individu untuk mempengaruhi dunia serta membangun nama untuk diri mereka sendiri di dunia yang terus berkembang. Hal ini diwujudkan dengan adanya 12 pembicara dari seluruh Indonesia yang telah mengalihkan kreatifitas dan talenta mereka untuk membangun kesuksesan sendiri, dari berbagai macam bidang seperti musik, fashion, bisnis, teknologi dan olahraga.
Tujuan dari acara ini adalah untuk menginspirasi para pemuda masa kini untuk menciptakan masa depan yang penuh tujuan bagi diri mereka sendiri melalui nilai-nilai kewirausahaan, kepemimpinan, dan kreativitas.
A World of Our Own akan diselenggarakan pada tanggal 6 Agustus 2018 di Pusat Studi Jepang, Universitas Indonesia mulai dari jam 9 pagi hingga 6 sore. Mari membangun dunia kami bersama-sama.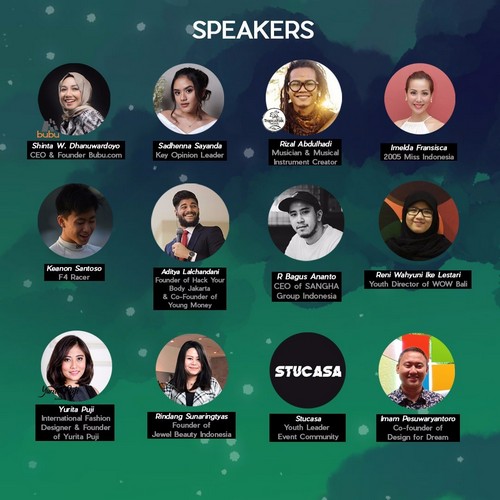 Tentang Global Youth Leaders:
Global Youth Leaders adalah organisasi yang dibuat untuk menanam jiwa kepemimpinan, kewirausahaan, dan kreatifitas kepada generasi-generasi pemuda, yang akan memberi mereka keterampilan penting yang dapat digunakan bukan hanya dalam kehidupan sehari-hari, namun juga untuk masa depan. Hal ini dilakukan dengan mengintegrasikan belajar dan bersenang-senang, merekonstruksi cara kaum muda memandang pengalaman belajar tradisional.
GYL berusaha untuk melayani sebagai platform bagi individu muda di seluruh dunia untuk menumbuhkan ide-ide mereka melalui mendorong kepemimpinan, kewirausahaan, dan kreativitas.
More About us:
Instagram: @globalyouth.leaders
Email: globalyouthleaderssummit@gmail.com
Buy Tickets to A World of Our Own:
Normal Price; Rp 200,000
Contact Person-Rizwana (08119008900)
On the Spot: Rp 300,000
Follow & Repost (IG): Rp 150,000
Contact Person- Chelsy (081277751664)