1. Understanding the Changing Behaviour of the Millennials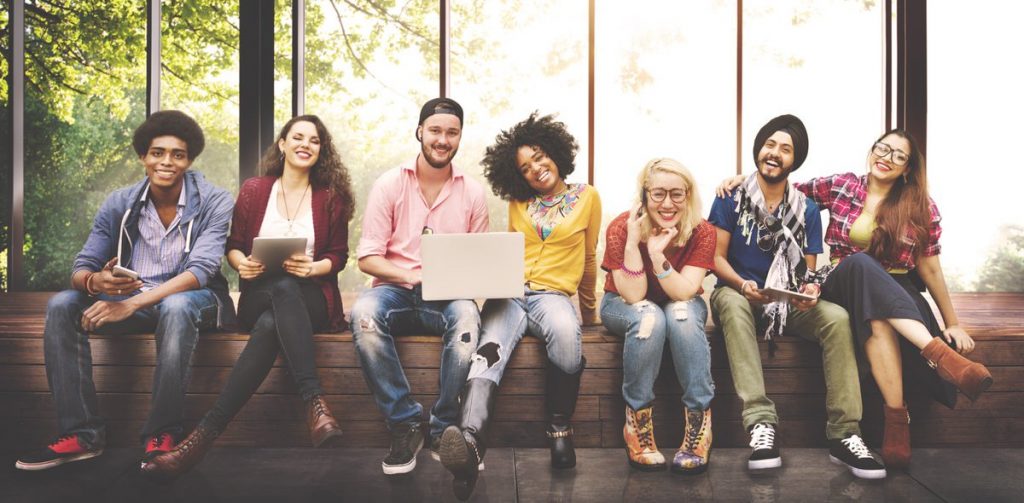 A research from http://luckyattitude.co.uk/millennial-characteristics/ stated that Millennials are the most educated generation, technologically savvy, conscious, progressive, compassionate, adventurous, diverse, pragmatic idealist and any other unique traits that make them different from their predecessors.
This changing behavior occurs because of many factors. The way parents raise them (the Gen X), the environment that surrounds them, mostly dominated by a technology which has shaped their mindset and affects their overall perspective (political, social and cultural attitudes). The population of Gen Y that has been increasing and the most important factor is the way people communicating with others. Which affects how people expressing themselves.
While most of the media stated that Millennials are narcissistic especially on social media, lazy and egoistic, Millennials actually have its own unique character. They are not lazy, but just thinking of looking for a better and faster alternative. They are not impatient, only they cannot tolerate ineffectiveness (I explain about this at point number 4). And because of this change, self-development methods for them must also be understood. In my previous article, I wrote about the method of education that suits with Millennials characteristic. Below is the method of self-development for the Millennials.
2. Method for Them to Grow.
Joining an International Program
My father told me that in his time the way to expand his network was by attending Mubes (The Great Meeting) among the campus councils in Indonesia. While at the present moment, with advanced technology the Millennials can expand their networks, knowing someone from abroad, mostly through social media. Breakthrough of innovation services also contributing to this impact, low-cost Airlines such as Air Asia is one of the examples. Established in 1993, Air Asia has helped many people explore the World, ASEAN specifically at an affordable price. Not forgetting the free visa policy for entering other countries among ASEAN members for a specific period of time also increase tourist's traffic. There is a possibility in the next few years, a free visa policy will also be applied globally, by step-by-step process among each country in the continents.
Millennials are a global citizen. According to the research from https://www.weforum.org/press/2016/08/millennials-uphold-ideals-of-global-citizenship-amid-concern-for-corruption-climate-change-and-lack-of-opportunity/ stated that '' While global sentiment seems to be turning inwards with concerns over immigration currently at their highest since World War II, millennials are seemingly bucking the trend. Young people in the 18-35 age group define themselves most often as global citizens (36%). Another 22% see their nationality as the defining character, and 9% define themselves most strongly through their religious beliefs. Among the youngest demographic of 18-22 year olds, nationality is the dominant self-identify, with global citizens a close second.''.
Picture from: https://www.weforum.org/press/2016/08/millennials-uphold-ideals-of-global-citizenship-amid-concern-for-corruption-climate-change-and-lack-of-opportunity/
In ASEAN Minister Workshop 2017 held at Sunway University Malaysia, UN Senior Advisor for Sustainable Development Goals, Jeffrey D. Sach said that in the next few years the term of western or the eastern world will not exist, there is only a globally world. This is a reflection of the characteristics of youth today, where many of them eager to learn new cultures, visit new countries, explore them, and make new friends.
With Jeffrey D. Sachs after his speech
Not to forget they are also seeing the same problems between their Government such as a corruption, religious conflicts, lack of economic opportunities, poor education system, and services, etc. This situation motivates them to think about solving the problem together, with greater and open perspective through a global discussion. They have a strong empathy towards the world's issues, and again, this is a huge influence of social media, a great platform where people can connect and aware of the world situation.
Picture from – https://www.weforum.org/press/2016/08/millennials-uphold-ideals-of-global-citizenship-amid-concern-for-corruption-climate-change-and-lack-of-opportunity/
As already been realized, that Millennials are global citizens, it is very important to have an experience of being involved in the international community. One method of doing so is by joining international programs, such as international conferences, student exchange, international workshop, or continue studying in abroad. And today there are a lot of opportunities to join them, many are free /supported by scholarship as well. It has become a new trend in the world and it is very popular nowadays. And after engaging in the international community and make friends with them, Millennials need to learn to manage this diversity. This is where the real challenge will begin. People from different countries, work with different method. Different leadership style, ways of communication, etc. As a conclusion, being involved in the international community is very worthy and Millennials should do this since the early stages of their life.
Learn, learn and learn.
The world today is dominated by motivators or speakers where they can share their ideas through an online platform. Sophisticated technology really helps many people to share their thought easier, which at the same time helps them to accelerate their speaking/motivator career as they can be easily recognized. Not to forget through an online platform, the learning process of many people, especially about self-development is much faster compared to the previous generation.
That's completely different with 30 years ago, where most of the learning platforms are not limited, but not as effective as they are today. Buying books is normal, but often, people should spend their time by watching TV to get information or knowledge and attend seminars with a little bit expensive price. People today can simply open YouTube to learn something new, or search for any topics in a Podcast and listen to them everywhere.
A free learning platform is overwhelming. Millennials can maximize the current situation to improve their self-development effectively. One man named Salman Khan has made Khan Academy mission to provide a free, world-class education to anyone, anywhere. This platform has helped thousand of people already, and many other big names also doing the same. Investing more time to educate ourselves will accelerate the possibility of success at the young age. In addition, Gen Y can learn from the Gen X. Where by approaching them politely, they can learn anything they really like. They will get a role model to guide them.
Taking a Leadership Position/Involve in a Big Project/Open Start-Up
Technology is created to make human life easier. And Millennials grew up with the technology around them, which affect their basic mindset. They are always thought to find a faster method that allows them to do something more effective and efficient. They are able to think critically, to find a better solution because they are practical and result-oriented.
As a Millennials, I believe that Millennials is not a lazy person, it's just that they think of the most effective way to do something. Let say, they are lazy to fail. Millennials are creative, having a great energy, expect to be trusted by their boss and they dislike of just doing something based on the instruction by the deadline. They want to involve and to change something. With these characteristics and desire, it would be beneficial if the Millennials taking and involve in a big project as early as possible. The initial experience will help them to boost their career.
Learning to Stay Patient
Still, relate with technology that makes things easier where Millennials really enjoy this one. They can't wait to see the news channel, they need a twitter/Instagram. They can't wait for photographers, all they need is a phone with a good camera quality. They can't wait for the Taxi, what they need is a good internet connection, so they can order Grab/Uber/Gojek.
This created a generalization of opinion, in which most of the people thought that the Millennials were impatient. But actually, they just cannot tolerate ineffectiveness. This is a different matter. Morgan Housel, a former columnist for The Motley Fool and The Wall Street Journal, said that ''Impatience is the unwillingness to wait when there is no alternative to waiting. No tolerance for inefficiency is the unwillingness to wait when there is, or should be, a better alternative''.
However, still, Millennials must be prepared for the worst, if something doesn't work as effective as they expect. Some specific process in their life will take a longer time. And when this time comes, Millennials must learn to accept and remain patient. It can be tough, but the maturity of someone born from a struggle.
Another thing that needs to be highlighted, some technology might help people connect, but overuse it will create a negative impact. Take one example, the majority of Millennials do not like to waste their time to meet people if there is Skype or Video Call that can be used. If there are several important people in their life, who live far enough away from their place of residence, for instance, take 3 or 4 hours by car, their basic mindset will lead them to use the technology rather than allocating the time to visit them.
This is not good for humans. At this moment, Millennials also need to understand that building emotional connection with their loved one starts from face-to-face conversations. This is can't be done with the technology, people need to see each other in the real moments. Maybe it will take some time to visit them, especially if there are some obstacles. But the output will be very worth it. Again, this is the time to learn staying patient. Spending time with the loved ones is a precious moment. This is stated in a study conducted by Harvard, link is below:
https://www.forbes.com/sites/georgebradt/2015/05/27/the-secret-of-happiness-revealed-by-harvard-study/#49b8b5206786
 Finding a Mentor
The New York Times' Adam Bryant recently interviewed Jeff Lawson, chief executive of Twilio, a cloud communications company in San Francisco, about managing millennial workers. Lawson says they enjoy constant feedback because they always want to be learning and growing.
Millennials have a mindset of continuous learning. They enjoy receiving constructive feedback. Being evaluated, how they perform especially in finding ideas and execute projects. They believe in learning from somebody else's experience. Millennials not trying to be praised, only they want to do something correctly and minimize their mistakes. Jeff Lawson explains, ''That's just part of the changing ethos, especially with younger workers. If you get into the habit of regular feedback, it's not confrontational; it's just the ebb and flow of conversation and a constant tweaking of how you work with somebody."
The young people, in general, are ambitious, full of energy, brave and confident. They want to accomplish something great since their young age. And to achieve something great, a proper guidance is mandatory. Finding the right mentor who provides positive feedback, both good and bad, will really help Millennials to become more mature.
Stay humble
Based on the research from https://www.ama.org/publications/MarketingNews/Pages/feeding-the-addiction.aspx social media is also the trigger of Dopamine, a neurochemical known as the "reward molecule" that's released after certain human actions or behaviors, creating happiness. According to a study of Australian consumers by San Francisco-based media-buying firm RadiumOne, social media usage is a dopamine gold mine. Every time we post, share, 'like,' comment or send an invitation online, we are creating an expectation, according to the study. "We feel a sense of belonging and advance our concept of self through sharing."
This Dopamine is the same hormone that is released when we feel good about some food, hugging from someone, receiving compliments, or even drugs. This explains why we feel good when we receive a positive comment or like on social media. Which also explains why many Millenials are addicted to social media. A sign of a social media alert, for example, is when your phone is buzzing, then you get a rush to open it. This is a dopamine from that condition stimulus. And from being addicted to social media, many Millenials are the narcissist. This situation is increasing their ego, makes them a self-centered person.  At their young age where the self-control and maturity still need to be improved, it is difficult for the majority of Millenials to remain humble. In other words, being arrogant.
Eating junk food or playing a game sometimes is okay, but addiction into it will create a negative impact as well. It is no secret that the Millennials cannot stay away from their phone, and it is important for them to have an internet connection. Social media is a great platform for releasing the egos, it makes us feel understood, a mood booster, etc. However, being too involved with social media is also not good. There are negative consequences, that people will have a Fear of Missing Out or FOMO (more about FOMO can be read in here: https://www.forbes.com/sites/melodywilding/2016/07/06/career-fomo-how-to-stop-fear-of-missing-out-from-ruining-your-happiness/#1be805f29241 )
It is not easy to stay humble because it will automatically against our ego, but everything will always take time. The most important thing is to begin it. As a Millennials, I believe that this is the most crucial attitude. Because everyone always loves those who is down to earth.
Millennials are interested in fulfillment in life. Instead of buying new goods, they will invest in the experience. They consider knowing the meaning of life, not just having their lives at work, and they judge their success as they understand their purpose in life. And when they understand it, they want to do it in a fun way.
 Source:
Author
Josandy Maha Putra  – born in Bukittinggi, he studied  International Business Management at Universiti Utara Malaysia (UUM), and proceeded to engage in different cultures. In his study period, he was elected as the President of International Students Society (ISSUUM) the first President from the Asia Continent and also as the Vice Chairman of Ikatan Kekeluargaan Mahasiswa Minang in Malaysia. In his free time, he loves learning martial arts and spend time with his friends. Joining Rumah Millennials as part of the Research and Development team as he is passionate about leadership and self-development. Grateful for joining the team, he makes sure that his article will help many Millennials to flourish. Love making new friends, stay in touch with him 🙂
Email : josandymahaputra@gmail.com
Linkedln : https://www.linkedin.com/in/josandymahaputra
Instagram: @j_mahaputra