JAKARTA – RumahMillennials.com | The Final and Coronation Moment PR Ambassador Competition 2018 yaitu acara puncak dari PR FEST & Pemilihan PR Ambassador 2018, bertempatan di Auditorium Universitas Esa Unggul, Jakarta, pada Kamis 11 November 2018.
Terdapat dua acara penting yaitu seminar PR FEST dengan tema " Public speaking Skill in Digital Era" dengan subtema "Handle Public Opinion by Strategic Public Speaking.
Seminar ini dibuat dalam bentuk Talkshow yang dipandu oleh Moderator, Erna Febriani – Dosen FIKOM univ. Esa Unggul serta dua Narasumber terdiri dari Tania Amalia – PR Consultant of MSL Indonesia dan Marsya Gusman – Miss Asia Internasional Indonesia 2017 sekaligus Miss Internet 2017.
Selama berlangsungnya Talkshow,Tania Amalia selaku Narasumber, berbagi banyak ilmu dan pengalaman seputar profesi PR nya di perusahaan e-commerce Lazada yang sedang dia jalani hingga bagaimana strategi PR yang diambil dalam menghadapi krisis pada perusahaannya.
Begitupula narasumber Marsya Gusman, dengan predikatnya sebagai Miss Internet 2017 sekaligus duta Kominfo, beliau menjelaskan bagaimana  social Media dapat pula menjadi platform untuk PR dalam mem-branding perusahaan ataupun menyelesaikan krisis yang ditemui.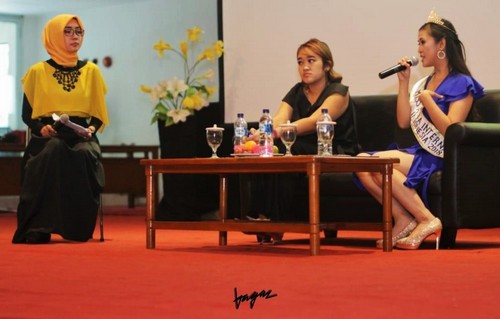 Setelah talkshow, dilanjutkan dengan Pemilihan PR Ambassador, yang mana menyeleksi dari 14 peserta menjadi 5 peserta. Pada TOP 5, setiap peserta dihadapkan dengan Q&A oleh para juri diantaranya Mr. Bugi (Dosen Fakultas komunikasi Esa Unggul) Tania Amalia, Marsya Gusman, dan Erna Febriani.
Dari hasil Q&A akhrinya melahirkan Anastasya Margaretha Aryana sebagai PR Ambassador 2018, Anak Agung Indah Pitasari sebagai PR Favorit 2018 dan Muhammad Cahya Piu sebagai PR Berbakat 2018.
Acara puncak PR FEST & Pemilihan PR Ambassador pun berjalan lancar dan dihadiri juga oleh para dosen fakultas ilmu komunisj univ. Esa Unggul, para mahasiswa fikom maupun fakultas Lain, hingga tamu undangan lainnya seperti kampus UEU Citra raya, universitas Hamka, hingga SMK Negeri 1 Rangkas Bitung. Serta di support oleh beberapa sponsor diantaranya Gigabates, Bungaku, Surabi teras dan Media Parter diantaranya radio mercu buana, radio UMN, BC 7radio dan BC 7TV.(audi)
Journalist and Publication Coordinator at Rumah Millennials
The man who love to share about interesting and unique story of Indonesia as well as youth development through youth organization community. Currently, Audi started his career as public speaker in radio and being freelance MC and Moderator for several events