JAKARTA – RumahMillennials.com | Dalam acara buka puasa bersama (bukber) di bulan Ramadhan 1439 H, Rumah Millennials mengadakan sharing session bertajuk "Ramadhan Millennials Talk" dengan tema "Millennials dan Pemanfaatan Era Digital Untuk Kebaikan Global".
Sharing session ini dihadirkan oleh keynote speakers yang mempunyai karya dibidang masing – masing dengan berbasis teknologi. Mereka adalah:
Muhammad Assad – Book author and Founder of Tamasia
M. Erfan Apriyanto – Business Strategist Advisor Tanijoy
Denny Yusuf – Ketua Yayasan Learn-Quran.co
Dina Novita Sari – Founder iBeasiswa.com
Fadilla Tourizqua Zain – VP Marketing Amartha
Taufan Teguh Akbari – Founder Rumah Millennals & Dekan Business Studies LSPR (Moderator)
Rumah millennials juga mengundang teman – teman dari komunitas, youth movement, dan startup untuk berjejaring dan memperkuat tali silaturahmi. Acara ini ditutup dengan tausiah yang disampaikan oleh Ustad Wildan.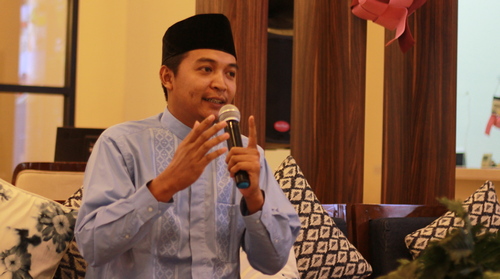 Dalam sharing session para pembicara mengajak generasi millennials untuk meniatkan diri kita dalam setiap usaha dengan niat sedekah. Bersedekah tidak hanya mengeluarkan uang, tapi bisa juga dalam konteks bersedekah waktu, energi, dan ilmu.
Dengan meniatkan diri untuk bersedekah disetiap aktivitas kita, Tuhan Yang Maha Esa akan memudahkan segala urusan, kesempatan – kesempatan untuk mengembangkan diri dan usaha yang kita jalani akan terbuka, dan menanamkan keikhlasan dalam hati saat bekerja.
Terutama saat ini masih dalam periode bulan suci Ramadhan, yuk kita perbanyak sedekah dalam setiap aktivitas yang kita jalani. Di bulan yang penuh barokah ini, segala amal yang kita lakukan insyAllah akan menjadi nilai ibadah dan akan dibalas dengan berbagai kebaikan oleh Tuhan Yang Maha Esa. (audi)
Journalist and Publication Coordinator at Rumah Millennials
The man who love to share about interesting and unique story of Indonesia as well as youth development through youth organization community. Currently, Audi started his career as public speaker in radio and being freelance MC and Moderator for several events